Hanifaru Bay is a sanctuary for people who love snorkeling with manta rays and whale sharks. This UNESCO biosphere reserve in the Maldives is legally designated as a Marine Protected Area. There are strict regulations are in place to protect and preserve this amazing wonder of nature. Hanifaru Bay is part of the Baa Atoll Biosphere Reserve and many of the resorts in this area are licensed to arrange excursion for their guests. Such trips are led by licensed Tour Guides and there are special rules boats and guests. The rules play vital role to keep the mantas and whale sharks at peace while guests enjoy watching them up close.
This unique bay can attract rays and sharks in large numbers, up to a few hundred of them at a time, making for a sight you won't forget.
What makes Hanifaru Bay so special?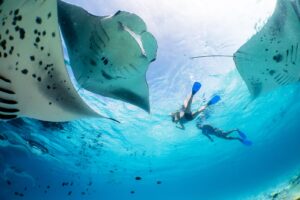 Located on the southeastern side of Baa Atoll, Hanifaru Bay overlooks a deep-water channel that separates the island from neighbouring Dharavandoo. The bay's reef is twice as wide at the mouth as it is towards the lagoon, forming a distinctive keyhole-like shape. This unique structure acts like a giant funnel, driving high concentrations of plankton deeper into the bay and closer to the surface – creating the perfect conditions for a bonafide filter-feeding frenzy. This high concentration of plankton is the reason why the manta rays gather here in such huge numbers – the more food there is, the more mantas join in the feeding! Individual manta rays barrel-roll through particularly dense patches of food, but will also join up and form manta trains – spiralling 'cyclones' of rays feeding in formation. It is this extraordinary behaviour that has made Hanifaru Bay so famous.
The reef at Hanifaru Bay is like a funnel that is about 1300 meters, the inner narrow part of the funnel is about 600 meters and that is where whale sharks and mantas are found more common. The whale shark season is from May to November. In this period, planktons gets trapped in the funnel-like reef and concentration of planktons attracts whale sharks and schools of manta rays. At any time there could be over a hundred mantas and several whale sharks feeding off the coral reef. This is the world's largest feeding station known to exist.
How to get Hanifaru Bay
Hanifaru Bay is in Baa Atoll, about 115 km from Male' International Airport. If you want to fly seaplane it takes about 25 minutes. Otherwise, Dharavandhoo domestic airport is just 2 km from Hanifaru Bay. There are up to 200 manta rays coming together from all over the Maldives for a magnificent feeding performance at the tiny Hanifaru Bay.
To visit Hanifaru Bay you have to book a trip through a licensed guesthouse, resort or safari boat. Many resorts in Baa Atoll have license and there are some guesthouses in Kamadhoo island that offer trips to this manta sanctuary. One of the famous one is Kamadhoo Inn Every guest have to buy a token Hanifaru Bay Management Centre, resorts usually keep this token fee added to trip price, so guests need not buy it separately. From guesthouses and safari vessels the policy may be different.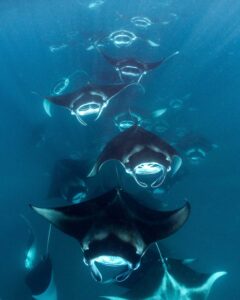 At Hanifaru Bay you can do snorkeling, diving is not permitted any more. During your snorkeling you must keep proper distance from whale sharks and manta rays, a radius of 3 meters from head section of whale shark and 4 meters at its tail is minimum distance you must maintain. You should not approach the creature from front or cross its path, stay at sides and swim with whale sharks. It is allowed to take pictures but without flash, you cannot use scooter or motorized devices to tow yourself. Touching, stroking or even getting that close is prohibited and there are trained rangers monitoring your moves.
The little island next marine protected area is Hanifaru, the island itself is preserved. It is not permitted to get on the island without written permission from Environment Protection Agency – EPA. The lagoon and sea around Hanifaru is protected too, it is not permitted for boats (other than taxi vessel) to go there or do fishing or any other activity. Any boat permitted to enter the area must maintain speed limits in order to ensure whale sharks and mantas do not get disturbed in any way. There are Rangers from EPA monitoring the feeding station and surrounding areas.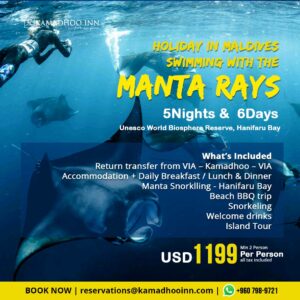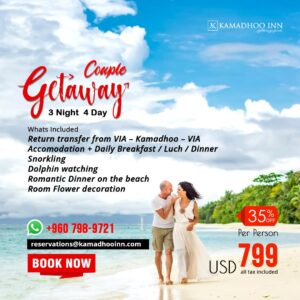 Underwater Photography Tips
The waters at Hanifaru Bay can get murky with planktons during the manta high season. So to get the best shots of the manta rays, follow these tips:
Leave the flash off, as lights and strobes are not allowed in the marine park without a special permit.
Use a wide-angle or fisheye lens. This lets you get in as close as possible and capture a wider scene in the murky water.
Move slowly and let the mantas approach you.
Stay near the surface to make use of natural light.
Use slow burst mode so you don't miss anything.
If your camera can't focus, it may be due to the plankton. Try locking the focus at arm's length.
Try shooting at the outer bay, where the water is deeper and visibility is better.
Try taking videos – the manta feeding is a lot more impressive to watch when in motion.
Get a license if you're shooting commercially.